BEER CRAWL - AUSTRALIAN CRAFT BEER VENUE AND MICROBREWERY DIRECTORY.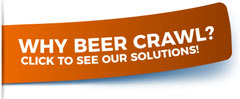 What is Beer Crawl?
If an Australian craft beer venue directory and a beer tracking app had a baby, and that baby had a whole lot of awesome superpowers, Beer Crawl would be it.
It's the answer to the important questions in life:
What if you could go on a pub crawl to all new places, and be confident that they'd serve good beer?

What if you could record a life-long list of venues you've visited and beers you've tried?

And better still… what if you could see a list of venues and beers you still want to try?
With Beer Crawl, your craft beer journey is just beginning.
A simple-to-navigate map

of all the good beer places in Australia, which keeps growing as the industry does. What's near you? Which venues are close to each other?

Check-in to venues to record where you've been, and easily see where you still want to try. There's always new venues to discover!
A

supercharged search function with impressive filters

. Want a bar with a pool table, live music, and no sports screens? How about a brewery that does growler fills and tasting paddles? Or one that has wifi,barista coffee, and is pet friendly? Or even want to find which venues have a certain style of beer on tap? Find exactly what you're looking for.

An

events calendar

that lists all the events run by microbreweries and craft beer bars, organised by state. Don't miss out because you didn't check the right Facebook pages at the right time—let the list of upcoming events come to you, and just scroll through until you see something that grabs you!
There's no need to give yourself a headache trying to hit every pub in one day. And when there's a multitude of good beer venues around, and a single directory that connects you to all of them—what's the rush?
After all: life is a beer crawl. So get crawling.