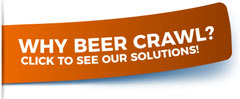 Beer Crawl connects lovers of Australian Craft Beer with bars/venues that have specific features.
We are all about providing accurate details for where you can go for some real ale.
The Beer Crawl team LOVE Australian craft beer, and want to contribute in its development.
We Love trying new things, visiting new places. Our site offers a means to tick off beers and places, and mark the ones you love.
Beer crawl allows you to save comments, however we believe there are enough media out there for people to express their opinions to the world…
Can't remember a great beer or Bar that you visited? We've got it covered. Simply create a free account to log all beers you have tried and places you have visited… But more importantly, what craft beer you are yet to try, and craft beer bars in Australia that you have yet to visit.
Use Facebook? You can post to tell your friends where you are / what you are drinking. Don't use Facebook? All good, it is not needed.
We are not experts in Craft beer, we just love it. In moderation. Including moderation. Beer Crawl. Get on it.